Mercedes-Benz Roadside Assistance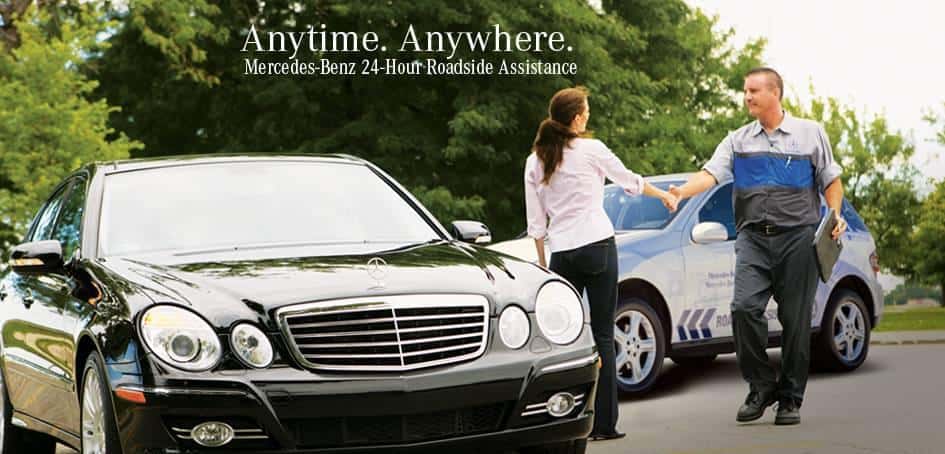 The Mercedes-Benz team considers your trust in us a serious thing, and it goes well beyond the purchase and maintenance of a quality vehicle. Mercedes-Benz Roadside Assistance is here to help you out when you're in trouble. Read on to see what's covered under the program, if you're covered, and how to request roadside assistance in an emergency. And remember to count on the team at Mercedes-Benz of Rockville Centre for all your automotive service needs.
Is My Vehicle Covered?
There are a few different situations under which you would be covered under the Mercedes-Benz Roadside Assistance program. This includes owning a vehicle that was purchased from an authorized Mercedes-Benz dealership before January 4, 2011 and still has its New Vehicle Limited Warranty, Extended Limited Warranty, or Certified Pre-Owned Warranty.
What's Covered?
Now that you know if you're covered under the Mercedes-Benz Roadside Assistance program, you probably want to know what's included with the program. As of 2014 all vehicles under this program include flat tire service, jump starts, fuel delivery, lockout service, and complimentary towing. If the repair isn't serviced at the dealership, the client may be charged for the towing service.
While we will always make every effort to help you out, it may sometimes be impossible to reach you when there is a restricted roadway, terrible storm or other act of nature, and if the vehicle is located in a wholly inaccessible location. In order to request roadside assistance, all you have to do is call us at 1-800-FOR-MERC (1-800-367-6372) with your personal information, vehicle information, and a description of the problem. You can also you your mbrace® or mbrace® Mobile Application if it's installed in your car or phone.
Get Your Roadside Assistance and Service at Mercedes-Benz or Rockville Centre
As all discerning luxury auto owners know, there are a lot of advantages to owning and operating a Mercedes-Benz vehicle. Now you know you'll also be backed up in case anything should come up while you're behind the wheel of a Mercedes-Benz model under warranty that you bought from a certified Mercedes-Benz dealership. When you need Mercedes-Benz service or roadside assistance, even for a jump start, count on the team at Mercedes-Benz of Rockville Centre, located at 650 Sunrise Highway in Rockville Centre, NY. You can also contact us at 516-766-6900.